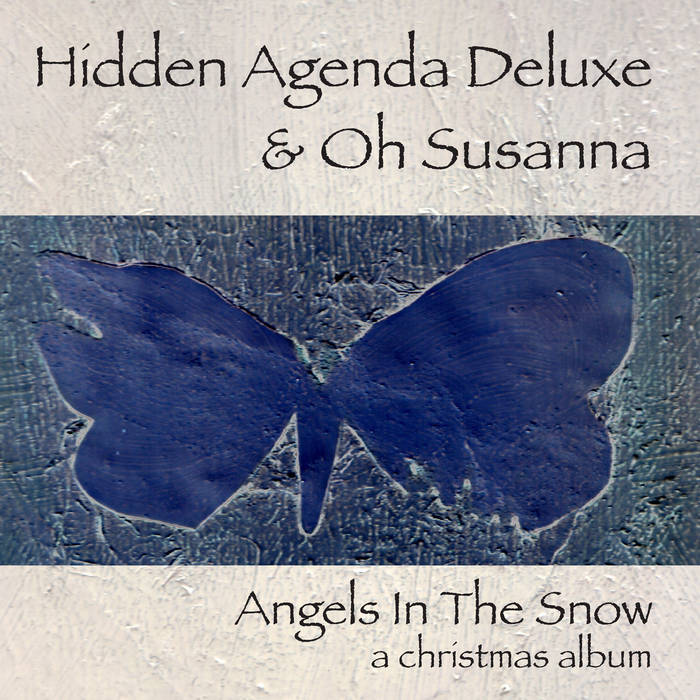 Het is bijna Kerst en de cd's met de aangepaste muzak zullen inmiddels weer zijn bovengehaald. Het jaarlijks terugkerend probleem. Je houd van Kerst, maar niet van de 'Jingle Bells' of de populaire hitdeuntjes die je op de radio door de strot wordt geduwd. Er zijn passende alternatieven. 
Dat begint al bij de hoes  van het album "Angels In The Snow", die vrij onopvallend (zonder de kerstboom, ballen of kerstman in een arrenslee), maar toch sfeervol overkomt. Op deze plaat werken een aantal Nederlandse topmuzikanten voor deze gelegenheid samen met de Amerikaans-Canadese zangeres Suzie Ungerleider.  Een dame met een warm stemgeluid en een fraai bereik, die de afgelopen elf jaar onder haar artiestennaam Oh Susanna acht albums met een folk- en countrybenadering uitbracht. Hidden Agenda DeLuxe is een gelegenheidsformatie van een aantal doorgewinterde klasbakken binnen de Nederlandse muziekscene. Een bandnaam die volgens Baartmans verwijst naar de verborgen en goedgevulde agenda's van hun eigen carrières. Een zeldzame verbroedering van gerespecteerde liedjessmeden BJ Baartmans en Eric de Vries, te midden van het gierend hammondorgel geluid van Rob Geboers en een door de wolgeverfde ritmesectie van Sjoerd van Bommel en Gerald van Beuningen.
Deze samenwerking levert een fraai album en een kersttour op. Op het moment dat de mussen van de zomer van het dak vielen werden de tien liedjes voor het album "Angels In The Snow" vastgelegd in BJ Baartmans' studio Wild Verband. Ruim veertig minuten lang druipt de klasse af waarop Hidden Agenda Deluxe en oh Susanna onder meer liedjes van The Band (Christmas Must Be Tonight), Joni Mitchell (The River) en Townes van Zandt (Snowing On Raton) vakkundig naar hun hand zetten. Maar ook de door Suzie, Eric, BJ en Sjoerd zelfgeschreven liedjes mogen er zijn. Wanneer de laatste tonen zijn weggestorven en ik geen overdreven stemmig en truttig kerstliedje heb horen langskomen maar prettig klinkende midtempo americana- en westcoast muziek, dan wordt duidelijk dat dit album een aan kerst gerelateerd verantwoord meesterwerkje is geworden. Eentje waar je je vingers bij aflikt.
De heren van Hidden Agenda Deluxe zijn samen met Oh Susanna te zien en te horen in:
15-12: Wageningen, St Junushof
16-12: Hengelo, Cactus Café
17-12: Eindhoven, Meneer Frits
18-12: 's-Hertogenbosch, BlueRoom Sessions
20-12: Terheijden, Puur Wit, Witte Kerkje
21-12: Nijmegen, Ramble On Club Trianon
22-12: Leusden, In The Woods
www.hiddenagendeluxe.com
(Johan Schoenmakers)