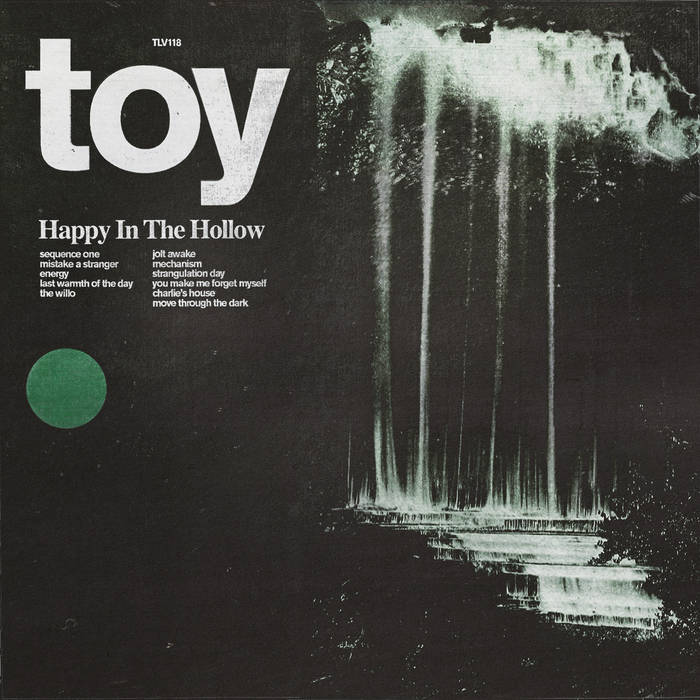 Ik heb een ziekelijke drang om altijd op zoek te blijven naar nieuwe ontdekkingen. Zo kom ik terecht bij het Britse kwintet Toy. Niet de eenvoudigste naam om online informatie over te vinden. Van het uit Brighton afkomstige bandje verscheen onlangs het vierde album "Happy In The Hollow".
Het verhaal van het vijftal (oftewel The Toy Story) gaat acht jaar terug als dit bandje zich opricht uit de asrechten van  Joe Lean & The Jing Jang Jong.  Samen met hun gelijknamige debuutalbum toendertijd een sensatie uit Engeland met vrolijke, en opzwepende liedjes. Een lijn die in combinatie met krautrock en een psychedelisch tintje door zanger en gitarist Tom Dougall en consorten van Toy wordt voortgezet op het naamloze debuut (2012),  de opvolger "Join The Dots" (2013) en "Clear Shot" (2016). Uitgebracht via Heavenly Records, een zustermaatschappij van de grootmachten EMI en Sony.
Met de overstap vorig jaar naar Tough Love Records werd het ook eens tijd voor een koerswijziging en op plaat nummer vier ("Happy In The Hollow") zijn tevens invloeden waarneembaar uit de melancholische shoegaze en postpunk kantjes. "Happy In The Hollow" is zelf geproduceerd en opgenomen in de Streatham studio van producer Dan Carey (Franz Ferdinand, Nick Mulvey, Sophie Hunger). Carey overhandigde de deursleutels aan Dougall, gaf hem een veertig minuten durende spoedcursus opnametechniek en maakte hem wegwijs met het mengpaneel.
In alles ademt de nieuweling van Toy de sfeer en broeierigheid van de gloriejaren van het Madchester tijdperk met bandjes als The Stone Roses, The Charlatans, The Farm en Happy Mondays. "Happy In The Hollow" klinkt vertrouwd, maar niet gedateerd. Balancerend tussen uptempo poprock geluid en lome dromerigheid met Dougalls troostende vocalen, die fraai echoën. Wat een aangename verrassing is dit zeg en bedwelmend mooi. Hogeschool darkwave.
www.thebandtoy.com
(Johan Schoenmakers)