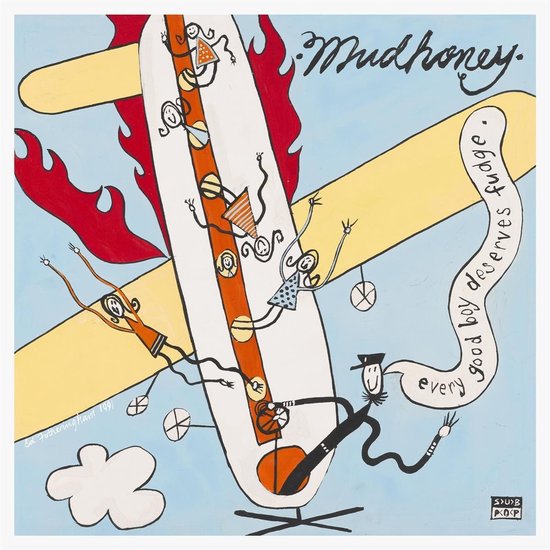 In de zomer en tegen het einde van het jaar duiken ze geregeld op. Reìssues van albums die een mooi rond getal qua jaren bestaan. Zo ook in het geval met het rauwe, schurende, chaotische en baanbrekende "Every Good Boy Deserves Fudge" van Mudhoney. Het geluid van een van de beste bands in hun genre op hun absolute creatieve hoogtepunt, die zich op concertposters aankondigde als 'Nevermind Nirvana, these are the godfathers of grunge!
Het album met een titel dat vernoemd is naar geheugensteuntje op een muziekschool was dertig jaar geleden voor het in Seattle gevestigde Sub Pop label de gans met de gouden eieren. Een typisch geval van een feelgood story. Uitgebracht op 23 juli 1991 zou deze plaat een respectabele 75.000 exemplaren gaan verkopen, waarmee het noodlijdende label uit de rode cijfers kwam. Een cruciaal album dat de aandacht trok.
Dus is het nu een uitstekend moment om met een door Bob Weston geremasterde versie stil te staan bij een van de grondleggers van de grunge generatie. Want onlangs viel het promo-exemplaar van de jubileum cd op de deurmat: Every Good Boy Deserves Fudge: 30th Anniversary Deluxe Edition. Althans, alleen de bonus cd met vijftien nummers, gestoken in een plastic hoesje kregen wij toegestuurd, zodat een vergelijking met het onverwoestbare origineel uit 1991 jammergenoeg achterwege blijft. De tijd toen we nog jong en wild waren.
Samen met de schreeuwerige waanzin van zanger Mark Arm, een oorverdovende gitaarmuur en de opzwepende drums onderga ik het aangename kabaal op het bonusmateriaal. Met onder meer niet eerder uitgebracht werk en diverse versies van March Of Fuzz. Afgesloten wordt met de vijf songs die de band destijds met producer Jack Endino opnam voor het oorspronkelijke album. Opmerkelijk gepolijst klinkend voor demo-versies. Reden voor de vier heren om ze vervolgens op de plank te laten liggen en aan de slag te gaan met Conrad Uno in zijn Egg-studio. De rest van het verhaal over "Every Good Boy Deserves Fudge" zal ongetwijfeld bekend zijn onder de fans en muziekliefhebbers.
www.mudhoneyonline.com
www.konkurrent.nl
(Johan Schoenmakers)