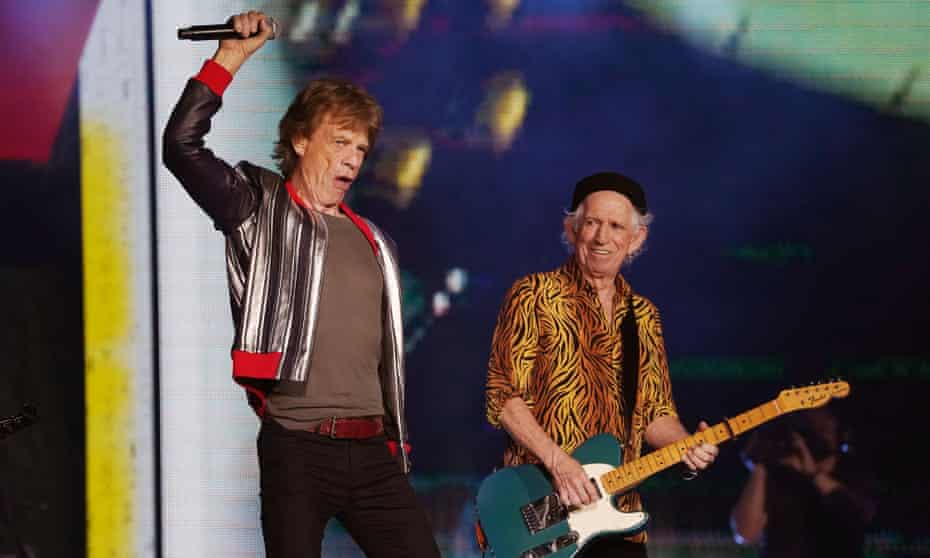 (Foto: Bill Greenblatt)
Het was een bewogen terugkeer naar het concertpodium, nadat de coronaviruspandemie een langdurig einde maakte aan de optredens. Voor Mick Jagger, Keith Richards en Ron Wood, die hun No Filter-tournee eindelijk weer kunnen oppakken op zondag 26 september in Chuck Berry's geboorteplaats St. Louis, Missouri, is de inzet zelfs nog hoger. Niet alleen hebben de rockende veteranen al meer dan twee jaar niet meer gespeeld; het is ook een eerbetoon aan hun vriend en drummer Charlie Watts, die vorige maand overleed.
Het twee uur durende concert opende met beelden van Jagger, Richards, Wood en Watts die op videoschermen voorbijflitsten. Het laatste beeld, een foto van een lachende Watts, was het startsein voor "Street Fighting Man" en It's Only Rock 'n Roll (But I Like It).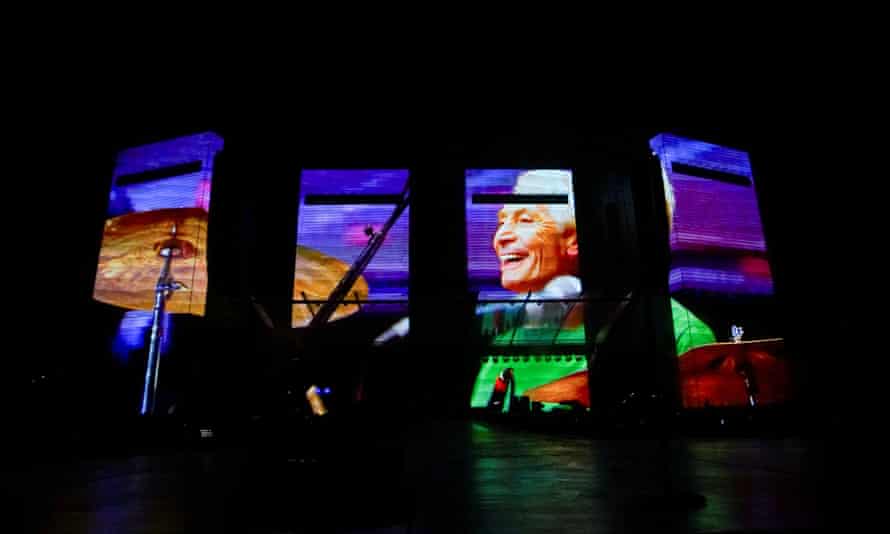 (Foto: Lawrence Bryant/Reuters)
Hierna loopt Mick, samen met Keith en Ron naar het midden van het podium om een hulde te brengen aan de eerbiedwaardige Charlie Watts. 'Dit is onze eerste tour zonder hem, zei Jagger zeer geëmotioneerd, terwijl hij de hand van Richards' vasthield. 'We missen Charlie allemaal enorm op en naast het podium. We dragen deze tour dan ook op aan hem'. De tienduizenden fans juichten. Hij sloot af met de woorden "Here's to you, Charlie", terwijl de band het nummer Tumbling Dice inzette. Het concert was technisch gezien het tweede optreden zonder Watts, na een privéshow vorige week in Foxborough, Massachusetts. Steve Jordan vervult nu met stuwende beats de rol als drummer van The Rolling Stones.
De 78-jarige Jagger sprong alsof het een lieve lust was. Het gitaarwerk van Wood en Richards klonk als vanouds. Samen met bassist Darryl Jones, Chuck Leavell (keyboards), Tim Reas (saxofoon) en Sasha Allen en Bernard Fowler (zang) – bracht The Rolling Stones een set van negentien nummers met veel van de te verwachte hits, waaronder Sympathy for the Devil, Paint It Black, Gimme Shelter, Honky Tonk Women en Jumpin' Jack Flash en een enkele verrassing in de vorm van het nieuwe Living in a Ghost Town.
Met dank aan: The Guardian/Star Adviser en Hollywood Reporter
Vertaling: Johan Schoenmakers