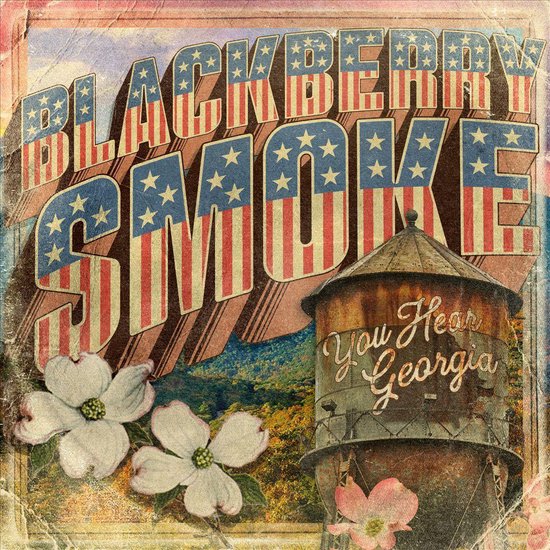 Dat je uit het Amerikaanse zuiden komt en rockmuziek speelt, betekent niet dat een band gelijk de volgende Lynyrd Skynyrd of de nieuwe Allman Brothers is. Toch weerhoudt mensen er niet van om de veelgeprezen Blackberry Smoke al jaren als zodanig te labelen. Zanger Charlie Starr – het kloppende hart van de band – vertelt aan de Phoenix, New Times het niet erg vinden als daarmee gestopt zou worden, maar snapt tegelijkertijd dat het mensen helpt om een ​​beeld van een band te vormen.
Het kan natuurlijk erger, weet je'", geeft Starr toe. "Ze zouden kunnen zeggen: 'Jullie doen me denken aan de Bay City Rollers. Ik herinner mij een interview met Tom Petty en iemand vroeg"'Wat is je grootste invloed?' En hij zei: 'De radio.' En ik dacht: wauw. Ik ook, een beetje." Natuurlijk worden we beïnvloed en geïnspireerd door veel grootheden, maar we doen gewoon ons eigen ding, zegt Starr.
Momenteel is Blackberry Smoke de beste band ter wereld in wat ze doen en prijkt elke nieuwe plaat al snel op de hoogste positie van de reguliere Amerikaanse album-charts. Een band die in de studio prima uit de verf komt, maar op het podium nog veel beter is. En die daarbij nog liedjes schrijft, die bij de eerste keer al blijven hangen. Zo ook op hun laatste wapenfeit "You Hear Georgia", waarvan in eigen land ruim 12.000 fysieke exemplaren in de eerste week na de release werden verkocht.
"You Hear Georgia" klinkt zoals gewoonlijk oerconservatief en vooral consistent, en zit door de frisheid van de live-in-de-studio productie van Dave Cobb verdomd goed in elkaar. Iedere resonantie van de snaredrum, iedere gitaar of pedaal steel partij of pianoaanslag en eventuele foutjes zijn hoorbaar. Een album met gastbijdragen van Jamey Johnson (Lonesome for a Livin) en Warren Haynes (All Rise Again), evenals met diverse gospelachtige achtergrondkoortjes van The Black Bettys.
Blackberry Smoke mag dan vandaag de dag een goed geoliede en succesvolle rockmachine zijn, zo was het niet altijd. We waren een feestband en de mensen wisten het, vertelt Starr in een gesprek met de webzine Loudersound. Het hoorde bij onze ontwikkeling. We waren gewoon een stel overjarige kinderen met een ontstuimig bestaan.
www.blackberrysmoke.com
(Johan Schoenmakers)
is een plaat van vijf noeste arbeiders, die ….. liefhebbers blij maakt en Georgia trots.