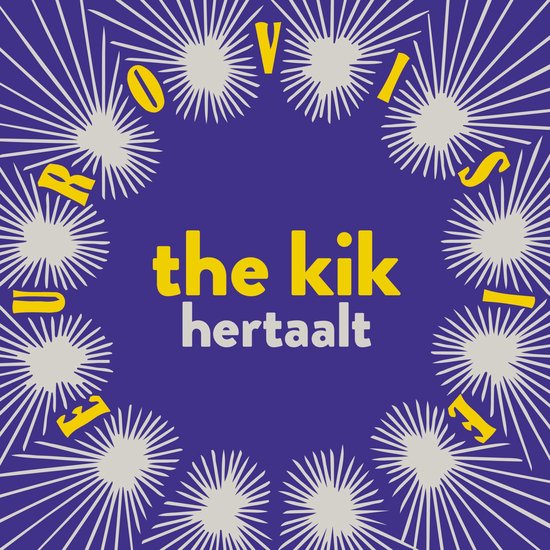 Er zijn momenten waarop ik een album met een reden even op de te recenseren stapel laat liggen zoals met het nieuwe album van The Kik hertaalt Eurovisie. Zo is mijn stuk nu tot een ideale en relevante opmaat verworven naar het jaarlijks terugkerende Eurovisie Songfestival, terwijl de repetities in Italië in volle gang zijn.
Von Raven heeft bepaald zijn liefde voor het liedjesfestijn niet onder stoelen en banken geschoven. Ook dat hij het om bij zijn eigen woorden te blijven hartstikke leuk zou vinden om ooit zelf eens mee te doen. Ik denk dat we met de muziek zouden komen die we zelf leuk vinden en daarbij is het van waarde dat je met iets anders komt dan anderen. Niet dat we in monsterpakken het podium op zouden komen, maar het kan best iets onprofessioneels zijn, zolang het maar een zekere kwaliteit heeft.(JFK Magazine)
Met The Kik Hertaalt Eurovisie in de achterzak verzorgt de band momenteel een theatertournee. Het is vanzelfsprekend, dat de keuze grotendeels ligt bij de liedjes die in ieders herinnering bewaard is gebleven Voor een theatervoorstelling is het verstandig te streven naar de ultieme herkenbaarheid.
Vijf van de twaalf nummers op dit fysieke exemplaar waren vorig jaar al digitaal via de streamingdiensten beschikbaar, waaronder:
Waterloo (Abba – Waterloo)
Diva (Dana International – Diva)
Stilte Na De Storm (Common Linnets – Calm After The Storm
Waar Blijft De Tijd (Gigliola Conquietti – Non Ho L'Eta), afsluitend met een puberale versie (Binnenkort)
van Bucks Fizz' Making Your Mind Up
Naast een eigenwijze interpretatie van de Eurovisie Mars, een instrumentale versie van Poupee de Cire als een veredeld pauzemuziekje en Abba's Ring Ring die in 1973 in de Zweedse voorronde bleef steken houden we uiteindelijk vier nieuwe Eurovisie hertalingen over. Het voor mij onbekendere Dansevisie van Grethe & Jörgen Inmann ('t is toch vreemd), het heerlijk oubollig klinkende Een Beetje (van Teddy Scholten), de liefde van rasechte Rotterdammer Dave Von Raven voor zijn geboortestad(Maggie McNeals Amsterdam wordt Rotterdam) en het absolute hoogtepunt Een avond met jou. Een Nederlandse versie van Dana's All Kind Of Everything, waar het sarcasme ervan afdruipt. Ik smul ervan. Origineel en briljant zoals alleen The Kik dat kan.
Dotan en Dire Straits
Mondkapjesplicht
Stomp in mijn maag
Of een klap in 't gezicht
In 't geheel is er veel
Waar ik niet van hou
Toch is het beter dan een avond met jou
www.showcase.fm
(Johan Schoenmakers)