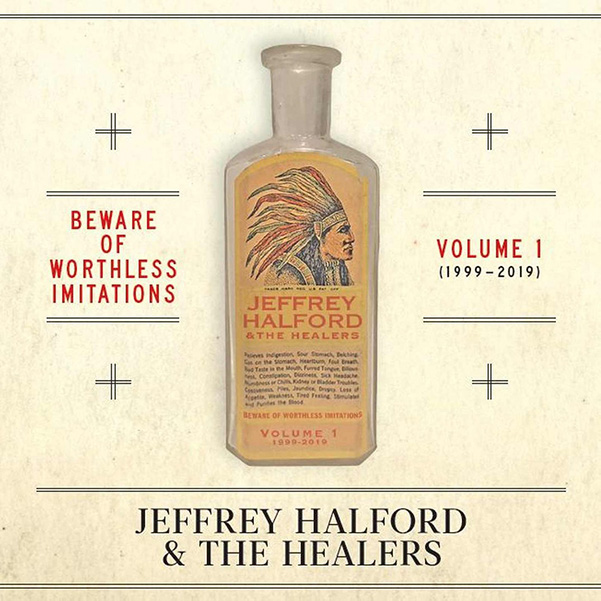 De maar liefst twintig tracks op de  compilatie " Beware of Worthless Imitations (vol.1)" vormen een fraai overzicht van twintig jaar en zeven albums van Jeffrey Halford en zijn Healers, Adam Rossi en Bill MacBeath . Zij vormen al jaren een  hecht trio dat met veel enthousiasme de nummers enorm swingend thuis of in een concertzaaltje uit de speakers laat knallen.  Inspiratie vond Jeffrey in de zeventiger jaren in de country-rock van California, waarbij hij zich vooral heeft laten leiden door het rock-gedeelte ervan; hij noemt zijn muziek dan ook  rock and roll country soul
Halford is een uitstekend liedjesschrijver die weet hoe je een beklijvend liedje schrijft, waarin naast de uitstekende vocalen ook afwisselend zijn scheurende slide en dito mondharmonica hoofdrollen voor zich opeisen. Opvallende gastmuzikanten zijn Chuck Prophet op gitaar en Augie Meyers, wiens karakteristieke Farfisa-orgeltje het upbeat Louisiana Man van gepaste vrolijkheid voorziet.
De meeslepende uptempo -nummers worden uitgekiend afgewisseld met fraaie ballades hetgeen leidt tot een uitgebalanceerd geheel, dat de vele mogelijkheden van dit ingespeelde drietal perfect tentoonspreidt. Je proeft het spelplezier dat deze mannen ervaren in het samen muziek maken. Hoe jammer is het dat zij dit niet met ons hebben kunnen delen omdat hun geplande Nederlandse tournee van oktober niet doorging. Hopelijk kunnen zij snel wel komen. houd dit gedreven trio in de gaten!
www.jeffreyhalford.com
(Bert van Kessel)