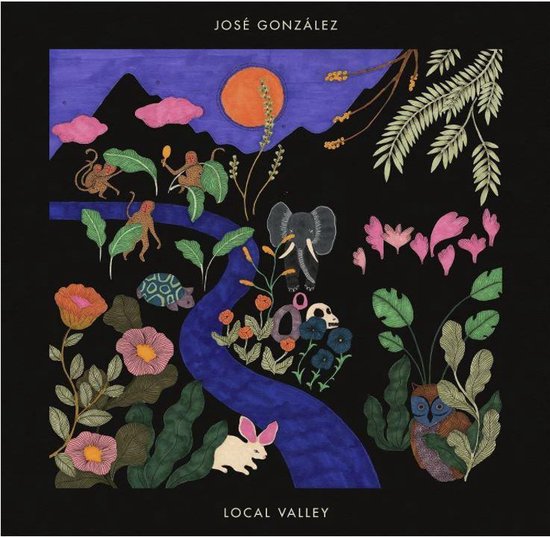 Het mooie aan muziek is dat er voor iedere stemming en ieder moment geschikte varianten zijn. Zo sta je te springen en volledig uit je panty te gaan en zo zit je onderuit gezakt weg te dromen met je hoofdtelefoon op. "Local Valley" van de Zweeds-Argentijnse singer-songwriter José González richt zich op het relaxt genieten van mooie, verleidelijke klanken van zijn nylonsnarige akoestische gitaar en zijn harmonieus stemgeluid.
Ondanks zijn enorm repertoire aan eigen liedjes, maakte hij uiteindelijk naam met de onwaarschijnlijke transformatie van internationale klassiekers zoals 'Love Will Tear Us Apart' (Joy Division), 'Teardrop' (Massive Attack), Smalltown Boy (Bronski Beat) en Hand on your Heart (Kylie Minoque).  De onderliggende pijn die hij zo subtiel blootlegt in deze liedjes.
Zijn solowerk klinkt altijd precies hetzelfde. En ook op zijn nieuwste en vierde worp "Local Valley", die een goed zes jaar na het veelgeprezen "Vestiges & Claw" verschijnt, is González godzijdank geen steek veranderd. Hij wordt dan ook wel eens een van de meest herkenbare artiesten in zijn genre genoemd.
Door het meertalige aspect en de diverse Latijns-Amerikaanse ritmische stukken die je herinneren aan zijn Argentijnse roots presenteert hij zich op deze plaat net even iets anders. Het geeft een vleugje lichtheid aan een album vol ontnuchterende reflectie op de problemen waarmee de samenleving wordt geconfronteerd.
Het is zijn eerste album sinds hij vader werd. Of de teksten nu in het Zweeds, Spaans of Engels zijn, de dromerige indiefolk klinkt prachtig, intiem en ontroerend. "Spaans en Zweeds zijn mijn moedertalen, dus het voelde belangrijk om liedjes in die talen te schrijven", vertelt González aan Atwood Magazine . "De tijd was rijp en ik voelde mij meer op mijn gemak met wie ik ben, wat ik probeer over te brengen.
González observeert de alarmerende puinhoop op onze planeet en vraagt: "Wat ben je verdomme nu aan het doen? Ben je helemaal gestoord?" Hij kan best iets op het spoor zijn. Het voorlaatste nummer is een zacht moedigende versie van het dance nummer Un Stand på Jorden (Laleh), vertaald als A Moment On Earth .
Honey Honey is de perfecte manier om een album af te sluiten. Geschreven voor zijn partner Hannele Fernström, die het hoesontwerp verzorgde. Een ongelooflijk rustgevend nummer en een delicaat slaapliedje om het publiek in een droomstaat te brengen.
07-11: Amsterdam, Paradiso
08-11: Nijmegen, Doornroosje
www.jose-gonzalez.com
www.konkurrent.nl
(Johan Schoenmakers)