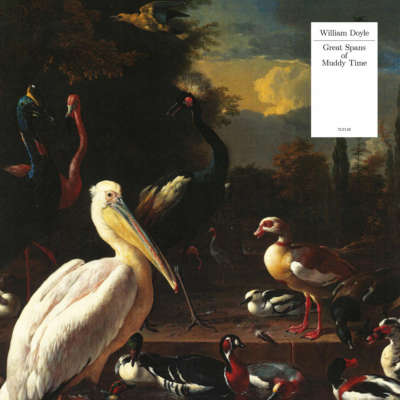 Ik zou het kunnen hebben over zijn platen onder aliassen als Doyle and the Fourfathers en East India Youh, maar ik concentreer mij liever op "Great Spans Of Muddy Time". Het tweede album van William Doyle onder zijn eigen naam. Een album voor mensen die van experimentele elektronische muziek, het vroege vocale werk van Brian Eno, Robert Wyatt, Robin Hitchcock en mooie liedjes houden.
De albumtitel "Great Spans Of Muddy Time " verwijst naar een citaat van Monty Don, bekend van BBC's Gardener's World. Hiermee referereert hij naar periodes van depressie, maar deze quote zou tevens van toepassing kunnen zijn op Covid 19. Voor het hoesontwerp kwam William Doyle terecht in het Rijksmuseum in Amsterdam bij een olieschilderij uit de zeventiende eeuw van Melchior d'Hondecoeter (1636-1695) met daarop een tafereel met watervogels. Hoewel hij aanvankelijk bleef zoeken naar het door hem gewenste perfecte, abstracte beeld voor het album, bleven de vogels zijn aandacht trekken.
Aan de basis van Doyles nieuwe wapenfeit stond een kapotte harde schijf, waardoor de opnames waaraan hij keihard had gewerkt, gingen verloren. Slechts een paar cassettes aan ideeën hield hij uiteindelijk over om opnieuw mee aan de slag te gaan.  Hij beschouwde dit als een teken van het lot en nam de kwaliteit van deze opnamen voor lief.
Vrijwel onmiddellijk wordt duidelijk dat "Great Spans of Muddy Time" in niets lijkt op zijn voorganger. Doyle heeft alles teruggebracht tot zijn meest basale vorm – vooral omdat hij dat moest. Er is dus een noodzakelijk fragmentarische benadering van de plaat, waarbij sommige stukken onverwacht kort klinken en plotseling eindigen.
De dertien zachte en harmonieuze stukken zijn veelal door improvisaties tot stand gekomen wat resulteert in een spannende luisterervaring. Met deze meer intuïtieve benadering van muziek, creëerde Doyle een verrassend veelzijdig en grensverleggend album, waarop je soms het idee krijgt dat een verdwaalde kat over je toetsenbord rent.
Wees gewaarschuwd, Doyle houdt ervan om de luisteraar in het ootje te nemen. Zo onderzoekt hij pop, art-rock, ambient en filmische aspecten in zijn eigenzinnige composities. Hij kleurt die op bepaalde momenten in met zijn rustgevend en warm stemgeluid die soepel croonend van hoog naar laag scheert.
www.william-doyle.co.uk
www.konkurrent.nl
(Johan Schoenmakers)