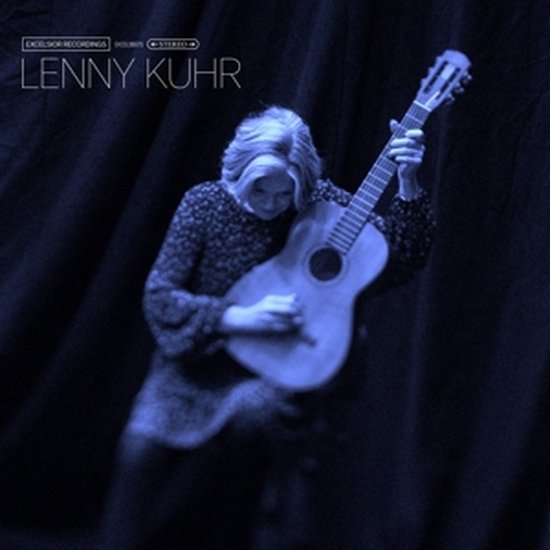 Van een troubadour waar ik in mijn vorige stuk over schreef (Jake Xerxes Fussell) naar de vrouw, die over een troubadour zong waarmee zij ooit als 1 van de vijf het Eurovisie Songfestival won, is een kleine stap. Want ook Lenny Kuhr is op haar nieuwe gelijknamige plaat die verrassend genoeg via Excelsior Recordings verscheen, een liefhebber van eenvoud en doeltreffendheid met haar stemgeluid als fraaie middelpunt.
Zij heeft in haar lange carrière nooit een geheim gemaakt van commerciele aspiraties. Althans zo leek het wel eens of was het toch meer op aandringen van de platenmaatschappijen. Zo stond Lenny vaker in de hitparade met waardeloze flutliedjes met een ´Op Volle Toeren niveau zoals Maar Ja en Visite dan met de mildheid en nuances van fraaie chansons of luisterrijk werk (Troubadour, Les Enfants).
Met het tekenen bij Excelsior Recordings zal zowel een jong als oud publiek de weg naar haar naam en plaat weten te vinden. En met componisten als Stef Bos en Spinvis die onder meer aan het nieuwe wapenfeit meewerkten bewandelt zij bovendien een interessante en hippe weg. Minstens even belangrijk is het aantal gerenommeerde studiomuzikanten, die op deze plaat in ongekende puurheid excelleren.
Lenny is nog steeds zoals zijzelf zingt een troubadour, die ons trakteert op luisterliedjes in de beste zin des woords. Maar die de toehoorders wel uitermate verrast met een nieuwe plaat die richting de popmuziek gaat. En om eerlijk te wezen: de professionaliteit en de enorme vitaliteit stralen ervan af. Hoe bijzonder is het dat ik dit mocht doen, vertelde zij onlangs aan Alexander van Eenennaam van het Algemeen Dagblad. Heel bijzonder, Lenny en wij zijn blij dat Excelsior jou die kans gaf.
www.lennykuhr.com
(Johan Schoenmakers)